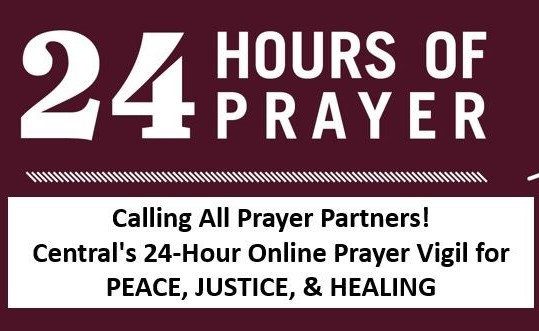 Wednesday, June 3, 2020
Greetings my Sisters and Brothers in Christ!
Let us join together for a time of  intentional prayer for the next 24 hours starting at 7pm tonight for the Holy Spirit to move in us, through us, and around us to bring peace, justice, and healing in our community and our country. We invite you to sign up for an hour to set aside time to pray at the link below. Please feel free to invite friends and family to this online vigil as all are welcome and encouraged!
We will be sharing a welcome time of prayer at 7pm tonight on Central's Facebook page and sharing prayer prompts and helpful information throughout the vigil. To go to Central's Facebook page please >>click here<<. Please contact Sigrid Mottram at smottram@centralumcmonroe.org with any questions.
>>Sign up-24 Hour Prayer Vigil<<
 We're using SignUp.com to organize the Online Vigil. Here's how it works in 3 easy steps:
1) Click this link to see our SignUp on SignUp.com
2) Review the options listed and choose the spot(s) you like.
3) Sign up! It's Easy – you will NOT need to register an account or keep a password on SignUp.com.
Note: SignUp.com does not share your email address with anyone. If you prefer not to use your email address, please email Sigrid Mottram directly and she can sign you up manually.